HOONTRAKUL HOUSEHOLD
Menu /
Hoontrakul Household
Hoontrakul Family
Dr. Pongsak Hoontrakul is the eldest son of Khun Somsak. He received a Doctoral degree in Business Administration in the Finance Thammasat University, a Master in Business Administration from Sasin Institute, Chulalongkorn University and a Bachelor of Science degree in Industrial and System Engineering at San Jose State University, USA.
He is married to
Khun Nontana who is the youngest daughter of Khun Pisit Thanabatchai. Ms Nontana Thanabutchai obtained a Higher Diploma in Business Administration, Hammersmith & West London College, England, and a Mini MBA in Business Administration, Faculty of Commerce and Accountancy, Thammasart University, Thailand.
Together they have 4 sons - Thanabodee, Thanasak, Thanarat, and Thanakhom.
updated : 21-Dec-2014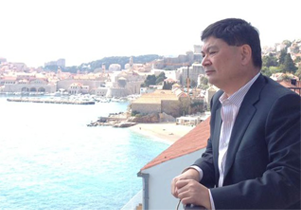 Mr.Pongsak Hoontrakul
Name : Dr. Pongsak Hoontrakul (ดร. พงษ์ศักดิ์ ฮุ่นตระกูล)
Marital Status : Married with 4 sons
Address : Bangkok, Thailand
Tel: (662) 883 5548, Fax: (662) 883 5547
Email : pongsak@hoontrakul.com
URL : www.pongsak.hoontrakul.com ; www.sasin.edu
Date of Birth : 9th October 1960
Birth Place & Citizenship : Bangkok, Thailand
updated : 21-Dec-2014
Mr.Nontana Thanabatchai
Name : Khun Nontana Thanabatchai
Marital Status : Married with 4 sons
Address : Bangkok, Thailand
Tel:
, Fax: (662) 883 5547
Email : nontana@hoontrakul.com
Birth Place & Citizenship : Bangkok, Thailand
updated : 31-May-2016